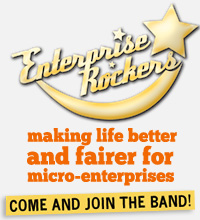 I advise on and promote ways for organisations to engage with and benefit start ups and micro enterprises. I enable people, policies and programmes which help those starting and running their own business to survive and thrive.I'm the co-founder of the Enterprise Rockers global community.
Micro enterprise (0-9 employees) owners are essential customers and suppliers to larger organisations. They are major contributors to every nation's employment, innovation, communities and economic growth.
In the UK alone there are over 4.5 million, representing 96% of all businesses. One in seven of the UK workforce run their own micro enterprise and the number of micro enterprises and their contribution to employment and the economy continues to increase. With the right help in the first 18 months for every 100 start-ups, 85 will survive beyond 3 years and 6 will become substantial, employing businesses.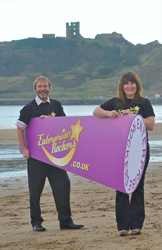 Oldest Rocker – me with 'Glam Rock Chick' Tina.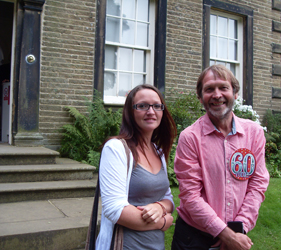 With my gorgeous daughter Sinead – outside my fave place the Bronte Parsonage in Haworth.
I co-founded the global, free-to-join Enterprise Rockers movement, with the fabulous Tina Boden, in order to create 'The Power of Plenty' A massive, self- help community of micro enterprise owners making life better and fairer for all, everywhere. Tina is pictured above with me on launch date – January 2012.
The other picture, above, with my daughter is at the Bronte Parsonage museum in Haworth, my favourite house. The Bronte sisters realised the only way they could escape horrible jobs and control their own destiny was through enterprise.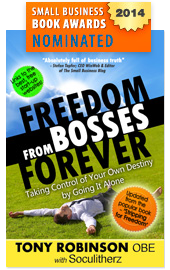 Freedom From Bosses Forever
(updated e-book version of 'Stripping for Freedom' 2nd Edition)
Freedom from Bosses Forever is a best selling satire. It is a completely updated and enhanced version of the popular 'Stripping for Freedom'. Tony is certain that this is the best of his seven books and 'all I know'.
It prepares everyone in corporate land for the realities of being their own boss. It has been described as the 'funniest' business book (Dave Sumner-Smith, former programme director Home Business Network & The Telegraph Business Network) with the most 'hard hitting business truths' (Stefan Topfer, global entrepreneur and CEO of WinWeb).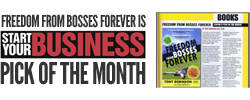 You can find more about this book and e-book, read reviews and sample extracts on Amazon. There are blogs by Leonora Soculitherz on The Small Business Blog, Fashion Faux Pas on Pinterest and humorous videos on YouTube.
Tim & Tony
Me with my hero and fave celebrity friend Tim Campbell MBE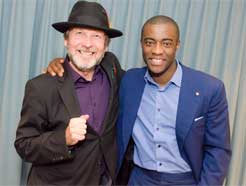 Tim was the first The Apprentice winner and he's always supported events I've been running over the years and I support the Bright Ideas Trust which he founded.
We were photographed not too long ago in London at the launch of a fab new book called 'Enterprising Child' by Lorraine Allman and Mary Cummings – Lorraine is an Enterprise Rockers Band Leader.
I was MC for the launch & Tim was guest speaker