GOING IT ALONE?
Micro Enterprise and Small Business Courses
A 3 day residential course for executives and professionals
What is our guarantee?
We guarantee to help you make the decision whether to 'go it alone', what your prospective enterprise will do and sell and what you must do in order to successfully start up and survive.
All the inputs are tailored to each individual and the small group's requirements (minimum of 3 and maximum of 9 delegates).
We don't do 'off the shelf' or classroom training or power point presentations.
We don't just leave you after the 3 days. The first 18 months of going it alone are crucial. We will ensure that you know how you can build a support network to successfully take you through these vulnerable times.
Who is this for?
For executives and professionals facing or having experienced, redundancy, early retirement, limited new job opportunities – or just wanting to go it alone in their own enterprise.
If you are within the first six months of 'going it alone' you will also find the 3 days valuable.
The programme is of most benefit to those that will turn their existing skills and know how into an income stream.
How much does it cost and what's included?
This is a two night, three day, residential programme in Scarborough. It is provided by The Business Advisory Bureau Limited which has been helping micro enterprises to start and grow since 1986.
You will work with Tony Robinson OBE, Tina Boden and Nigel Hudson – all very experienced independent business owners, coaches and mentors. Other expert inputs are provided from businesses in Scarborough and online from our associates.
You (or your outgoing employer or your outplacement agency) pay a fixed fee of £875 plus VAT. This covers all advisers, coaches, mentors, all visits plus online information and support. It includes a visit to the theatre or cinema on the first night, two group lunches and two group dinners – all in different locations. It includes all incidental refreshments in the cafes of Scarborough and any transport costs within Scarborough*
You pay for your own travel and accommodation in Scarborough so that you can tailor this to your own budget. We will provide you with recommendations on hotels at different rates.
3 Days
only
£875 incl VAT
Why Scarborough – the entrepreneurial past?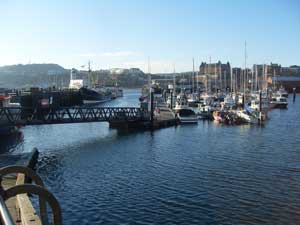 The initial idea started back in the 1620s with the entrepreneurial Farrers who discovered the life giving properties of Scarborough spa waters.
By the 1650s a unique health giving offer to the gentry had been created by Dr Whittie (who like Tony Robinson attended Beverley Grammar School), and this was subsequently promoted throughout Britain by Dickie Dickinson in the 17th Century right through to Victorian times.
Scarborough provided the exclusive opportunity for the wealthy to get away from it all and invigorate themselves through health giving refreshments, exercise, cultural and sporting events, theatre and the finest company of peers.
With record numbers of executives and professionals becoming self-employed or starting their own enterprise the new spa break in Scarborough** is a decision break regarding being your own boss.
Why Scarborough – the enterprising present and future?
Scarborough has had its former glory restored over the last ten years This regeneration continues but already completed is the largest Open Air theatre in Europe, new attractions and superb holiday homes in the North Bay, £26m has been spent to protect the 2.1km stretch of Scarborough's coastline. There is a programme of constant upgrades and care to its parks, gardens and two fantastic beaches.
There are thousands of new micro enterprises that have been set up as a result of this regeneration. They exist in the thriving shopping complexes and markers, provide interesting new hotels, attractions, restaurants, bars, cafes, year round entertainment, live music (including Scarborough's Jazz, Seafest and Acoustic Festivals) and modern beauty, fitness and leisure facilities.
There are many new great cultural attractions, design and innovation businesses. There are new enterprises associated with the refreshing walks, cycling and historical sights on the coast and moors. There are lots of businesses benefiting from the great theatre at the Stephen Joseph Theatre in the Round, the Futurist and the Spa theatre complex. The increase in businesses has led to an increase in professional services to these business owners.
All of this new enterprise led to Scarborough winning the award as the most enterprising town in Britain and is the only British town or city to win the most enterprising place in Europe award.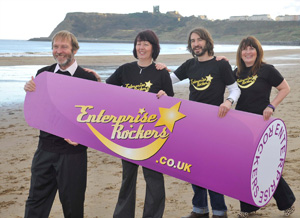 In Scarborough, in January 2012, Tony Robinson OBE and Tina Boden, who had met 3 years earlier at a in international enterprise conference, launched a global movement – the Enterprise Rockers.
Tony, Tina and Nigel are convinced there is no better place than Scarborough to help you decide on your future in a business of your own.
Bookings –

Act Now and be with us within 4-6 weeks

We look forward to welcoming you to a 'Go It Alone' Decision break in Scarborough.
Please e-mail or ring me Tony Robinson OBE at tony@entrepreneursuk.com or 01723 378589

*we try to walk, as much as the weather will allow, around the streets of Scarborough. We can arrange mobility assistance and promise this is pavement walking at as gentle a pace as you wish.
** naturally we can arrange the decision break for a company or outplacement agency – preferably still in Scarborough but at another location if more convenient.