MEET THE ORACLE OF HAPPIPRENEURIA
If you haven't met or seen Tony and his friends perform the "Be More Happipreneur" Show, the best way to find out if you like his work is through "The Happipreneur" (2nd edition) – a memoir and guide for all enterprising people – along with his novels, poetry, songs, enterprise guides, articles and blogs.
All of his seven books that are still in print and on Kindle are available on Amazon and ordered through all good bookstores. 2024 will see three new books, all fiction. There are two audiobooks on Audible (Amazon). They are "Freedom from Bosses Forever" (business humour/satire) and "A Perfect Little Gift", which is a collection of his poetry and prose > Amazon link RIGHT HERE
OR the HAPPIPRENEUR BLOGS pages (see the side panel to the right) on this website will give you plenty of insights into his philosophy of happipreneurship and how to lead a happy, fulfilling and enterprising life.  You can also sample his fictional and satirical writing there with his infamous dead celebrity interviews, including Zeus, Bertie Wooster, Anne Bronte and Moby Dick. 
OR watch some of his many YouTube videos, including a film on why Hull is the most enterprising city in the world, interviews with successful entrepreneurs, plus comedy shorts and highlights from the Be More Happipreneur show, RIGHT HERE
OUR CITY TOUR FOR 2024
Ian Farrar, CEO of Far North and Jenn Crowther, CEO of Yorkshire in Business, join Tony Robinson OBE in the #MicroBizMatters and Be More Happipreneur Shows for 2024. All three lead organisations in the Micro Business Alliance.
Together, they will perform the Be More Happipreneur Show at City, Corporate, College and University venues.  They will also host monthly Be More Happipreneur live-stream events and podcasts throughout 2024.
Micro Business Alliance members in Cities throughout England will primarily host the shows. The typical format of the 2 hours 15 minutes shows (minimum 200 delegates) is:
1. Why #MicroBizMatters? – The host and local dignitaries explain the importance of micro business owners in their city.
2. Tony, Jenn and Ian perform the "Be More Happipreneur" Show
3.  Q&A Panel, including the hosts plus Jenn, Ian, and Tony, take questions from an audience of prospective and existing micro business owners and those that wish to support startups and micro business owners.
Cost varies, but a guideline is £2000 for travel and accommodation and an honorarium for the speakers, with the Micro Business Alliance member host paying for the venue, A/V and any refreshments.  Ticket sales (max £20 per person) are an option.
WHAT THEY SAY:
"If you're lucky enough to have Tony in your corner, you're going to succeed", Tim Campbell MBE, Entrepreneur, Star of The Apprentice and its first winner. Tim wrote the four-page foreword to "The Happipreneur". 
"Massive thanks, Tony Robinson OBE, for being such a great champion for business owners. Your kind words and actions continue to inspire me. Thank you for your relentless drive for change and fairness. We see you, hear you and appreciate you! 🙌 " Kanya King CBE, Founder & CEO of the MOBO Awards and Organisation. 
"No one else has so consistently been the voice of micro businesses for so long. Tony's determination, tenacity and resilience is legendary. The micro-business sector thanks its champion." Liz Barclay, Small Business Commissioner
"If you want someone to tell you the truth, go to the 'dickhead' in the red-feathered hat", Brad Burton, Entrepreneur and the UK's Number One Motivational Speaker.
"Dazzling", Susan Frenk, Principal of St Aidan's College, Durham University
"Inspiring", Ian Cass, CEO, Forum of Private Business & Chair/Leader of the Micro Business Alliance.
WELCOME TO HAPPIPRENEURIA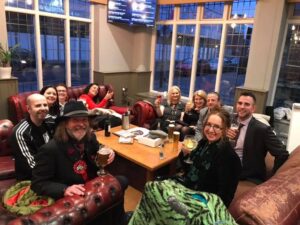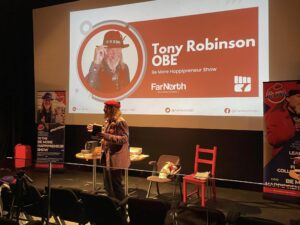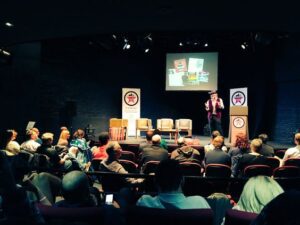 The first 'Be More Happipreneur' show was in August 2021 at the Coventry University Campus in Scarborough.
Micro Business Alliance members feature at every show. Tony co-founded the Micro Business Alliance
Virtual and live shows, indoors or outdoors, will be performed throughout 2024. Email tonyrobinsonobe@gmail.com