Adding Your Name to the Small Is Beautiful Roll of Honour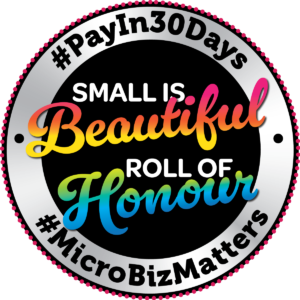 The 'Small is Beautiful' Roll of Honour can be signed by organisations of any size. Please go to this LinkedIn article and put in the comments box the name of your organisation and the name of someone in control of the organisation who will uphold the values. The article also has a 2 minutes video which captures the spirit of the Small is Beautiful and #MicroBizMatters movement.
EF Schumacher predicted in 1973 that many large corporations would never say 'enough' and would exploit employees and suppliers, engender inequality and destroy our communities and the planet.
Happily, there are a small number of large corporations and many medium-sized businesses which along with most small and micro business owners do believe in Schumacher's 'Small is Beautiful' values.
It is important that we recognise these organisations and choose to do business with them. By preferring to buy from those on this 'Small is Beautiful' Roll of Honour we send a message to the exploiters and bullies. Eventually, we will convince sector leading organisations that it is good for their business and good for our communities to subscribe to our 'Small is Beautiful' values.
These values include:
#PayIn30Days ALL suppliers ALL the time
Promoting equality and diversity
A fair day's work for a fair day's pay
Protecting our environment and communities
Unlimited growth is pathological
Small can make a difference and should be supported.
Download the Logos: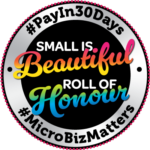 All organisations on the Small is Beautiful Roll of Honour are requested to download the Small is Beautiful logo to use online and in printed media. The logo features the hashtag; #PayIn30Days and #MicroBizMatters.
Showing your organisation is on the Small is Beautiful Roll of Honour encourages 5.7 million UK Small and micro businesses to buy from you, supply to you and collaborate with you.
We published the Small is Beautiful Roll of Honour (includes the #MicroBizMatters Hall of Fame) on our 5th Annual #MicroBizMatters Day on Friday, 11th January, 2019. Our social media Day of Recognition, Action and Learning reached over one million people – giving time to help each other. We call this the #PowerOfPlenty.
This Small is Beautiful Roll of Honour lists the businesses and people supporting EF Schumacher's and #MicroBizMatters' values.
We expect to have a Roll of Honour which is twice the size to publish at our 6th Annual #MicroBizMatters Day on Friday, January 10, 2020. We should all promote and buy from organisations on the Roll of Honour.
SMALL IS BEAUTIFUL ROLL OF HONOUR
Xero (Gary Turner)
FreeAgent (Ed Molyneux)
rradar (Gary Gallen)
Enterprise Nation (Dan Martin)
The Forum of Private Business (Ian Cass)
International Association of Bookkeepers (Janet Jack)
British Independent Retailers Association (Andrew Goodacre)
Swakeleys Properties Limited (Clare Francis)
Awards International (Don Hales)
#Tweetmaster (Martin Mullen)
Business Achievers (Ron Immink)
Simply Great Britain (Emily Whitehead)
Paid (Tom Howsam)
Electrician – Electrical Safety for the Hearts and Ohms (Ian Simpson)
Supa Designs (Patrick Healy)
Blue Oyster Leading Edge Solutions Ltd (Peter Jones)
The Exploration Habit Ltd (Alan Arnett)
Unique Wakefield (Sarah Firth)
Salbor Ltd (Fran Boorman)
Cocoonfxmedia Ltd & Lichfield & Tamworth Chamber of Commerce (James Blackman)
Farillio (Merlie Calvert)
Wagstaff Recruitment (Ruth Foster)
PANDA – Performing Arts Network & Development Agency (Anne Marie Crowther)
The Talent Finders (Nathan Konstantino)
Empowering Change (Eve V Earley)
Esther Lawson IPA Group (Esther Lawson)
Ariadne Associates (Simon Jones)
Tweeting Goddess & Women's Inspire Network (Samantha Kelly)
Linda Huckle Training & The Athena Network – Blackwater Valley Region (Linda Huckle)
Itchy Fingers Design (Amanda Lucas)
Bridge Road Consultants Ltd (Debra Levitt)
Small Business Web Services & The Biz Helpers Podcast (Ian Wilson)
Successful Women Academy & The Athena Network – Central London region (AnYes van Rhijn)
Fondatrice Happy Therapy (Emma Meston)
Minutehack.com (Dan Matthews)
Laredofineart.com & Laredoparis.com & Thedevelopmentspace.com (Claire Rose)
Diginnomica (Dennis Howlett)
Essential Communications (Sam Rudland)
Digirank Ltd (Karen Pearce)
John Cracknell Youth Enterprise Bank (Charles Cracknell)
Essential Business (Julie Stanford)
Cambridge Social Media (Lenka Koppova)
Enigma-Graphics (Roger Crackett)
Sarah's Style of Art (Sarah Louise Milburn)
Techie Fairy (Chris Carlton)
CrookConsults (Paul Crook)
Business Writers Limited (Huw Sayer)
Holonomics Education (Simon Robinson & Maria Auxiliadora Moraes Amiden Robinson)
B2B Marketing Global Ltd Catrina Clulow
Red Octagon Social Media Management (Simon Cox)
Mums Bake Cakes (Paula Wilkinson)
The Organisation for Business Empowerment Ltd (Elsa Caleb)
Yorkshire in Business Limited (Jenn Crowther)
E Factor Group Ltd (Mark Webb)
Toucan Diversity (Anne-Marie Asgari)
Small Business Solutions(Albert Wright)
Copa Fizz (Gillian Bartlett)
FCM Publishing (Taryn Lee Johnston)
Hottclix.co.uk (Jaqjit Sandhu)
Deals4Worcestershire (Sy Hawkes)
Jagjit Sandhu
adrenalinecontentmarketing.co.uk (Susan Scarre)
Bizradio.co.uk (Paul Andrews)
Mind Fit Ltd & YP2Grow (Neville Gaunt)
Shop Local Club Card (Marcus Naidoo & Sam Naidoo)
N&R Accountancy Services (Richard Holland)
The New Forest Tartan Company (Kate Collison)
Sadie Skipworth Social Media (Sadie Skipworth)
IRIS Solutions (Averill MacGillivray) assisting with Lovestorm Cakeaway (Leilani Storm, 14)
RaeRae's Vegan Dessert Sauces
(Avaiyia Rae, 10)
The Positive Pen (Janet Doran)
4 Social Good – Creator of Social Enterprises (Saundra Glenn)
ASAPay (Lorraine W)
ShopAppy.com (Dr Jackie Mulligan)
Clowne Enterprise (Paul Davies)
Swarm Apprenticeships & Norwich Mustard (Robert Ashton)
Problem Solving Company Ltd (Janice B Gordon)
Ashdown Audio Visual (Ian Chisnall)
Bus and Bird Arts (Clare Taylor)
TryLife Interactive Film Series (Paul Irwin)
North Yorkshire Law (Natalie Foster)
Peter Richardson Estates (Peter Richardson)
CDCS Wirral (David Hall)
Clearwave Enterprise Solutions (Elliott Chandler)
ELECOMM LIMITED (John Hamilton)
AutismAble CIC (Andrew Forster)
Think Design Manchester Ltd (Paul Grogan)
Micro Business Awards 2020 (Ruairi Devlin)
Briary Trading Limited (Peter Brevis)
N&R Accountancy Services (Richard Holland)
#MICROBIZMATTERS HALL OF FAME
Paul Lancaster
Gaynor Carr
Kanya King CBE (our inspiration)
Charlie Mullins OBE (our Tsar)
Tim Campbell MBE
Penny Power OBE
Kate Hardcastle MBE
Dinah Bennett OBE
Sway
Chris Percival
Laura Henry
Janice B Gordon
Tina Fotherby
Ed Goodman
Jo Harrison
Adrian Ashton
Naomi Timperley
Alex Gajic
Allen Pluck
Elaine Clark
Catrina Clulow
Dee Maria Olajide
Sadie Skipworth
Martin Mullen
Marianne Whitfield
Lorraine Allman
Martin Kirby
Tom Evans
Julia Emelogu
Michelle Dorrell
Patricia van den Akker
Elsa Caleb
Mike Peates
Rhian Kempadoo-Millar
Charles Cracknell
Mike Notarantonio
Kit Hargreaves
Millie Notarantonio
Neal Boden
Sinead Robinson
Eve Lodge
Thomas Arran
Janet Jack
Ian Cass
Dan Martin
Antony Chesworth
Alison Chesworth
Karl Plunkett
Zia Mallick
Ron Immink
Dawn Whiteley
Simon Cox
Clare Francis
Nigel Hudson
Tripp Braden
Paul Crook
Henry Stewart
James Blackman