How it Started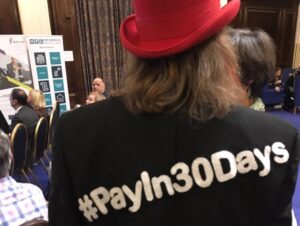 I started campaigning in 1996 for #PayIn30Days when, as a small business owner, I was on many Government Committees and Consultation Groups. I'd founded an organisation, now known as the SFEDI Group, to improve start-up and micro/small business support in the UK.
I was also Vice President of the National Federation of Enterprise Agencies and a Vice President of the Institute of Small Business and Entrepreneurship. Later, and additionally, I became Investors in People Small Business Champion.
Between 1996 and 2011 there wasn't a government review on small business that I wasn't involved in. At every opportunity, I advocated Government leadership to enable #PayIn30Days.
It was obvious that the main barrier to growth and main reason for increasing levels of debt and depression of business owners was poor cash flow. This was caused by a £15 to £20 billion log jam of payments from large organisations (over 250 employees), most of which Government worked with.
From 1996 to today, large companies have made their suppliers wait longer and longer for payment, through bullying, unfair, 'take it or leave it' payment terms and dodgy payment practices. 72 days is now the average wait for payment.
The government have surrendered to lobbyists and only legislated or provided codes of practice on late or prompt payment against 'agreed' payment terms. That is why Carillion was able to get away with 120 days of payment terms and cause absolute devastation among tens of thousands of small and micro construction companies.
In January 2012, when I co-founded the #MicroBizMatters Movement and Day, #PayIn30Days became a hashtag and a public campaign.
What does my #PayIn30Days campaign want?
The ultimate aim is that 95% ofall invoices from the 5.7 million small and microbusinesses should be paid within 30 days.  But the first objective is for the Government to use its leverage with 7500 large companies (over 250 employees) which are causing the cashflow log jam. 
The first objective we want to achieve is: 

"Government should not contract with, buy from, outsource, license, bailout, support or fund any organisation over 250 employees which do not #PayIn30Days ALL bills ALL the time" 
Here's my video explanation of the importance of #PayIn30Dayshttps://www.youtube.com/watch?v=0QmAmKA2YmQ&t=361s
What level of support is there for #PayIn30Days?
All the major national small and micro business membership organisations are supportive.  The Small Business Commissioner is supportive but only late payment disputes are in their remit. Bill Esterson, the Shadow Small Business Minister is supportive. Many MPs are supportive and some are being approached to create a Private Members Bill. Hundreds of local and regional small and micro business networks are supportive.  Many famous entrepreneurs are also supportive and daily express their support on twitter. 
I've been and am on working groups influencing cash flow for business with Government including #PayIn30Days. The members of this group include:
Association of Independent Professionals and the Self-Employed (IPSE)
British Chambers of Commerce (BCCG)
Confederation of British Industry (CBI)
Federation of Small Businesses (FSB)
Forum of Private Business
Good Business Pays
Institute of Directors (IoD)
Office of the Small Business Commissioner
Make UK
National Enterprise Network
MicroBizMatters
UK Finance
If you're a member of any of the organisations above let them know you support  #PayIn30Days or less. 
Here's a video of my interview with the Small Business Commissioner (January, 2019)  on #PayIn30Days:  https://www.facebook.com/microbizmattersday/videos/2364195546946903/
Naturally millions of small and micro business owners support the #PayIn30Days campaign. They cannot afford to be seen to complain about their larger company customers and clients but it costs them dear in business, debt and depression being paid in an average of 72 days. 
Remember, most business owners have no employees and those that do have to pay their employees monthly. 70% of business owners work from home and they all have to pay their household bills monthly.  Many, for example, those supplying major supermarkets have to pay their suppliers immediately, even though they've had to accept 75 days payment terms. 
This LinkedIn post of mine on #PayIn30Days got a record 412,000 views by small and micro (0-9 employees) business owners on LinkedIn: https://www.linkedin.com/feed/update/urn:li:activity:6529821428764733440/
How can you get involved? 
We're always looking for collaborators and campaigners to put pressure on MPs and Ministers to help us.
1. Follow me on twitter @TonyRobinsonOBE and get LinkedIn with me too. Retweet our #PayIn30Days tweets. 
2.  Pledge your support to #PayIn30Days and use the #PayIn30Days badge – here's our website:  https://www.payin30days.co.uk/
3. Tell your membership organisation that you support my #PayIn30Days campaign and that #MicroBizMatters. 
4. Add your company's name, and persuade as many large companies as you can to add their name, to the Small is Beautiful Roll of Honour (now curated by the Organisation for Responsible Businesses) – you can get there from this site  – click on 'Small is Beautiful' on the menu at the top of the page. 
THANK YOU FOR BACKING #PayIn30Days