'Be More Happipreneur!' Speaker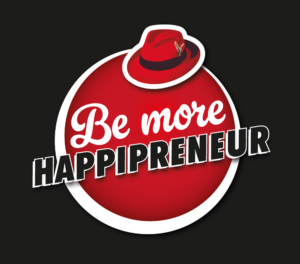 "Find out more about the living legend that is Tony Robinson OBE and book his show in your town or city" Paul Lancaster, Founder/Producer Newcastle Start-Up Week
"A packed venue, a great talk from Tony Robinson OBE on why micro-businesses matter so much and young entrepreneurs learning and being inspired" Sean Royce, Managing Director KCOM.
"From Tony Robinson OBE's informative talk, I discovered that the experiences, especially challenges, of entrepreneurs across the two continents are similar" Ntswaki Malebatja, Beyond Prospects (Pty) Ltd
"Our feedback has been exceptional" Linda Hitman, CEO, Exclusive Business Lunches
"Thank you so much for making 'Open for Business' buzz with your show at Ilfracombe Landmark Theatre. Catch Tony's show wherever you can" Robert Zarywacz, Chairman, Combe Business
"Very interesting and inspirational" Ben Robinson, Founder/Owner, Prehistoric Hull
The 'living legend' 
Tony's keynote talk for virtual, conference and theatre audiences is
'Be More Happipreneur!'
Designed for all enterprising people and leaders in every type of organisation or occupation this is an uplifting opportunity to consider how they (and their teams) can be more enterprising, fulfilled in their work and enable innovation, collaboration and growth.
All enterprising people and leaders wanting to support enterprising people will love this new talk – thirty years in the making.
The Happipreneur is the new Small is Beautiful. Dr Schumacher CBE used essays of his observations on 'economics as if people mattered' in his seminal work of 1973, 'Small is Beautiful'. Tony uses his business journey and the people that he has learned from to update this in a new business philosophy; Happipreneurship – 'enterprise as if people cared'.   Everyone can "Be More Happipreneur" whether an employee in a large corporation or a self-employed, freelancer working from home.
Tony is currently on stage, most often, with his one hour, fun, interactive "Be More Happipreneur" Show. The Show is for all enterprising people in large, medium or small organisations – employed or self-employed. The show explains why Charles Dickens was the greatest Happipreneur of all time and why many new young entrepreneurs and established entrepreneurs he has met, for example, Tim Campbell MBE, Sir Jim Ratcliffe, Charlie Mullins OBE, Kanya King CBE (Tony's Inspiration), Chris Percival and Lord Sugar share the Values, Influence and Enterprise of "The Happipreneur".
"In a world of very limited role models, Tony is someone worth looking up to.  This book will give you a true sense of the man, his business advice will not steer you wrong and if you're lucky enough to have Tony in your corner, then you know, you're going to succeed."
Tim Campbell MBE, Entrepreneur, current star of The Apprentice and the first The Apprentice winner. 
Happipreneurship is a new philosophy, developed by Tony over the last ten years, but it is entirely practical, realistic, affordable and fun.
It means being happy in your workplace at least 80% of the time. Everyone can Be More Happipreneur. Creating something out of nothing to help others is fulfilling for everyone. It leads to successful enterprises, happier workplaces and happier lives.
This is a 'No Notes and No PowerPoint slides' performance.
Tony has presented keynotes at hundreds of prestigious venues including Wembley Arena, NEC, Kensington Roof Gardens, Magic Circle, CBI, BAFTA, House of Lords, House of Commons, Queen Elizabeth II Centre, Royal Conservatoire Scotland, Landmark Theatre, Live Theatre and on HMS Belfast.
He is equally happy presenting his talks and shows in-company and at universities, exhibitions, business fairs, community halls and in hotels.
Tony Robinson OBE – The Happipreneur  
Tony, while running his businesses advising leaders in all sizes and types of organisations, has held many NED and Vice President positions for national organisations which support enterprise and entrepreneurs.
In 1996 he founded the SFEDI Group – the Sector Skills Body (includes the Institute of Enterprise and Entrepreneurs) for Enterprise, which he co-owns. He is Patron of the John Cracknell Youth Enterprise Bank, Co-Chair of Yorkshire in Business, and is a judge for many prestigious Awards Events including the Great British Entrepreneurs Awards and Simply Business ' £25,000 Business Boost Award. He was the co-founder of the #MicroBizMatters movement, annual #MicroBizMatters Day and the current bi-annual #MicroBizMatters Festival hosted and owned by Yorkshire in Business, which he chairs.  Millions have participated online and offline on these day of recognition, action, wellbeing, fun and learning.
Tony was honoured in 2001 with an OBE for services to small firms and is a recipient of lifetime achievement awards for Enterprise from both the IAB (2012) and Start Your Business Magazine (2013). He was the the National Enterprise Network's Enterprise Support Champion Award Winner in 2019 and the Hull City Council Youth Enterprise Champion Award Winner in 2021. He co-founded The Micro Business Alliance in 2023. He is regularly in the top 100 of UK influencers on Entrepreneurship.
As well as co-writing 'The Happipreneur', Tony has written seven business books, three fictional satires including 'Freedom from Bosses Forever' (also available on Audible), "A Perfect Little Gift" (also available on Audible – poetry and prose) and one novella "Loose Cannon".  His next novel is "Maltese Venom".
I am a professional speaker for business

– You'll Enjoy My Showreel
My Professional Business Speaking Experience…
Back in the day…
My first major speaking engagement, as a newly appointed Chief Executive of the UK subsidiary of a major American multinational, was at the NEC Arena in Birmingham. I presented in two shows to 10,000 independent business owners per show. I was so nervous I nearly fell into the fountain on the stage.
Decades later, I still get nervous but my passion for enterprise, speaking experience and professional skills allow me to deliver many keynote presentations and shows every year.
Showtime
Most of my Conference and Seminar presentations relate in some way to my passion for Enterprise and Entrepreneurship. I have been privileged to speak at many of the most prestigious national and international enterprise conferences, exhibitions and awards ceremonies.
Happipreneurship #Rocks
The talk and show all my efforts are concentrated on are for the widest possible audience.  Everyone can be more enterprising and leaders of all sizes and types of organisations should consider the benefits od enabling an enterprising culture.
My Happipreneurship philosophy is practical, achievable, fulfilling and fun. Not everyone wants to be more enterprising but most people will know someone that they'd like to help turn their passion into income and create something out of nothing.
Ever wondered why multi-millionaire and multi-billionaire business owners survive and grow over decades and rarely retire?
There is no 'you must' or 'you should' about this talk I present life truths I've learned around the mnemonic VIE  – Values, Influence and Enterprise and each individual will decide which of these truths may be of use to them.
It is important for me to entertain and give an uplifting presentation as well as introducing my practical new philosophy – Happipreneurship – to as many people as I can.
Most often, after my 45 minutes to one hour talk, there is a hosted Q & A session. I am always flexible to meet the client's requirements.
Clients
My clients have included (apologies for the alphabet soup): Ford, Johnson Controls, Aldermore Bank, American Express, Shell Livewire, Sage UK, Steelcase, Prince, Duo-Fast, Sonatest, Avanta, CBI, DSA, CMI, ISBE, IEPC, ILM, British Chambers of Commerce, Durham University, Coventry University, SFEDI, IAB, CITB, Meat Training Council, Far North, FSB, National LSC, NFEA, Business Link CEO Conference, QCA, SQA, Start-Up Exhibitions/Seminars, Prince's Trust, PRIME, Business Clubs, Investors in People UK, Business League, Small is Beautiful Conference, The Business Show, MADE Festival, Yorkshire Coast Enterprise, Hull Youth Enterprise, Yorkshire in Business and many government departments, national and regional government bodies.
My most recent talks and shows have been presented in theatres, universities and conference venues in London, Glasgow, Manchester, Sheffield, Newcastle, Hull, Northampton, Chesterfield, Devon, Teesside, Durham, South Shields and throughout Yorkshire.
Making Contact
If you require a unique, professional speaker to captivate and inspire your delegates virtually or in-person then please contact me and Jo Greenwood COO or Jenn Crowther CEO at Yorkshire in Business Limited (see bottom of home page for all contact details). THANK YOU.
One third of my fee goes to Macmillan Cancer Support, another third goes to Yorkshire in Business to provide free start up support and the final third goes to little ole me to feed the Robinson horde. THANK YOU.