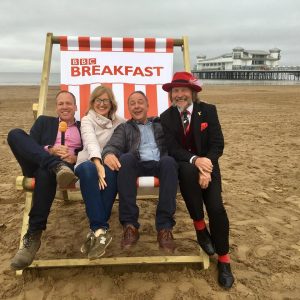 TONY ROBINSON OBE ON BBC BIG BREAKFAST- WATCH THE VIDEO HERE!
I am a professional speaker for business

– You'll Enjoy My Showreel


go to "Let's Get Enterprising – Micro Myths and Magic Show" for a one minute teaser!
My Professional Business Speaking Experience…
Back in the day…
My first major speaking engagement, as a newly appointed Chief Executive of the UK subsidiary of a major American multi-national, was at the NEC Arena in Birmingham. I presented in two shows to 10,000 independent business owners per show. I was so nervous I nearly fell into the fountain on the stage.
Decades later, I still get nervous but my passion for enterprise, speaking experience and professional skills allow me to deliver many keynote presentations and shows every year.
Speaking at the MADE Festival
Showtime
As I am known as the Micro Business Champion most of my Conference and Seminar presentations relate in some way to my passion for Enterprise and Entrepreneurship. I have been privileged to speak at many of the most prestigious national and international enterprise conferences, exhibitions and awards ceremonies.
Since April 2017 I have focused on touring the UK with my 'Micro is Magic Show'. The show explains another, better way than the American Way to start and grow a UK based business. The one hour show fits into existing conference programmes and can also be a stand-alone event which is often extended by a question and answer panel. All types and all sizes of business organisation find the show interesting, innovative, practical and valuable. Self-employed people, small and micro business owners, and all those wishing to support them, find it covers the essential enterprise truths.
Proven in Practice
Some of my clients have included (apologies for the alphabet soup): Shell Livewire, Steelcase, Prince, Ford, Duo Fast, Sonatest, Avanta, CBI, DSA, CMI, ISBE, IEPC, ILM, British Chambers of Commerce, SFEDI, IAB, CITB, Meat Training Council, FSB, National LSC, NFEA, Business Link CEO Conference, QCA, SQA, Start Up Exhibitions/Seminars, Prince's Trust, PRIME, Business Clubs, Investors in People UK, Business League, Aldermore Bank, Sage UK, Small is Beautiful Conference, The Business Show, MADE Festival, Yorkshire Coast Enterprise, Hull Youth Enterprise and many government departments, national and regional government bodies.The Micro is Magic Show has been presented in theatres, universities and conference venues for local organisers in London, Glasgow, Manchester, Sheffield, Newcastle, Hull, Northampton, Chesterfield, Devon, Teesside and Yorkshire.
Making Contact
If you require a professional business speaker, conference chair or facilitator that is passionate, informative and entertaining about enterprise then I hope that you will consider me. The Micro is Magic Show is proven and is ready made to fit into a one-hour slot in your programme.
The exclusive speaking agency which represents me is The Brand Activators. Please contact Paul Clark, Director at paul@thebrandactivators.co.uk and phone 07506 019114