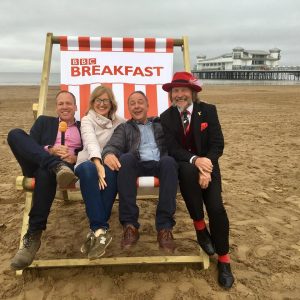 TONY ROBINSON OBE ON BBC BIG BREAKFAST- WATCH THE VIDEO HERE!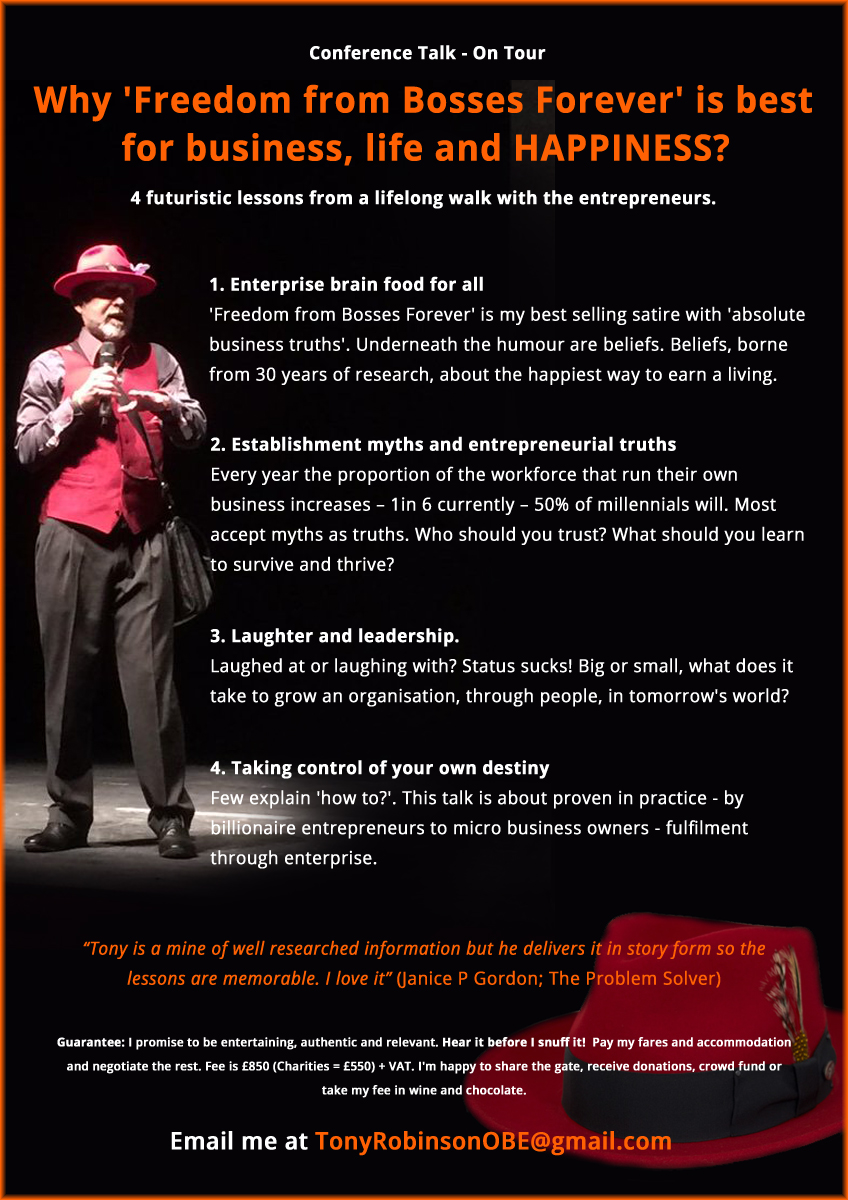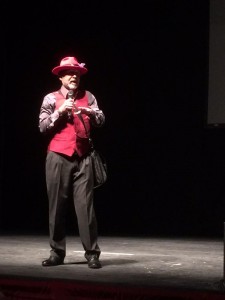 This talk (34 minutes) on enterprise was filmed at the inspiring, annual, global 'Small Is Beautiful Conference' in a Glasgow theatre in June 2015. from Small is Beautiful on Vimeo.
I am a professional speaker for business

– You'll Enjoy My Showreel


go to "Let's Get Enterprising – Micro Myths and Magic Show" for a one minute teaser!
My Professional Business Speaking Experience…
Back in the day…
My first major speaking engagement, as a newly appointed Chief Executive of the UK subsidiary of a major American multi-national, was at the NEC in Birmingham. I presented in two shows to 10,000 independent business owners per show. I was so nervous I nearly fell into the fountain on the stage.
Although I still get nervous the experience and the technique I developed gave me enough confidence to become a professional speaker and facilitator.
Speaking at the MADE Festival
Championing Enterprise
All my Conference and Seminar presentations relate in some way to my passion for Micro Enterprise and Entrepreneurship. I have been privileged to speak at many of the most prestigious national and international enterprise conferences and awards ceremonies.
My most requested conference speech, always updated, to business owners and business support personnel is '10 Rocking Enterprise Essentials'.  My most requested conference speech to corporate audiences, government agencies, institutes, professional and trade bodies is 'The Unstoppable Micro Enterprise Revolution (and what this means for your prospective customers or users)'.
Proven in Practice
Some clients have included (apologies for the alphabet soup): Shell Livewire, Steelcase, Prince, Ford, Duo Fast, Sonatest, Avanta, CBI, DSA, CMI, ISBE, IEPC, ILM, British Chambers of Commerce, SFEDI, IAB, CITB, Meat Training Council, FSB, National LSC, NFEA, Business Link CEO Conference, QCA, SQA, Start Up Exhibitions/Seminars, Prince's Trust, PRIME, Business Clubs, Investors in People UK, Business League, Aldermore Bank, Sage UK, Small is Beautiful, Yorkshire Coast Enterprise, Youth Enterprise and many government departments and national and regional government bodies..
Most of my research based, but proven-in-practice talks, are to audiences in the private, public and third sector that wish to understand, engage with, supply, support, train or educate prospective and existing small and micro enterprise owners.
Every speech is customised for the particular audience. Usually the speech is delivered without notes or power point slides (we do have projected, background, rolling images).
Email with your requirements
If you require a professional business speaker, conference chair or facilitator that is passionate, informative and entertaining about enterprise then I hope that you will consider me.
Tina Boden, who co-founded the Enterprise Rockers movement with me, is available to speak with me on 'EnterpriseRocks' or 'Enterprise – Do they get it?', and for customer services, call centres, sales and all customer facing staff 'Why #MicroBizMatters like never before?'
Tina is my all-time favourite enterprise in practice heroine.