Description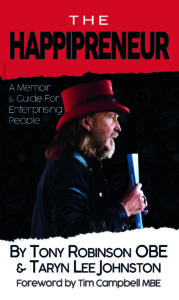 ORDER YOUR SIGNED COPY
Unsigned copies and ebooks are available now through all good book stores including Waterstones, Amazon and Book Depository.
"If you're lucky enough to have Tony in your corner you're going to succeed" ..Tim Campbell MBE, the first 'The Apprentice' winner.
"If you want someone to tell you the truth go to the 'dickhead' in the red feathered hat" ..Brad Burton, the UK's Number One Motivational Speaker
"Bonkers"..Tina Boden, Co-Founder #MicroBizMatters & Taryn Lee Johnston Co-Author.
Is 'The Happipreneur – Why #MicroBizMatters' the new 'Small is Beautiful'?
Two years ago while I was touring with my 'Micro is Magic' Show, Taryn Lee Johnston and I began writing this memoir and guide. Schumacher's influential work has been an inspiration for me and many of my heroes, such as Dr Ernesto Sirroli, also featured in the book.
Schumacher wrote about 'economics as if people mattered' but our book is about 'enterprise as if people cared'. How can we live happy, enterprising lives and be useful to others?
We hope everyone who wants to be more enterprising, no matter what size or type of organisation they work in, will find it practical and useful.
My enterprising and happipreneurship life story is less important than what I have learned from interviewing and working alongside the well-known entrepreneurs I most admire.
Of course, we couldn't write a book about enterprise without explaining my campaigns and how to avoid the snake oil sellers and scammers.
We can guarantee that every start-up including side hustlers will find some guidance of benefit to help them survive and thrive.
Every Small Business Minister should have a copy.
Price includes postage and packing, and a £2 donation to McMillan Cancer Support.