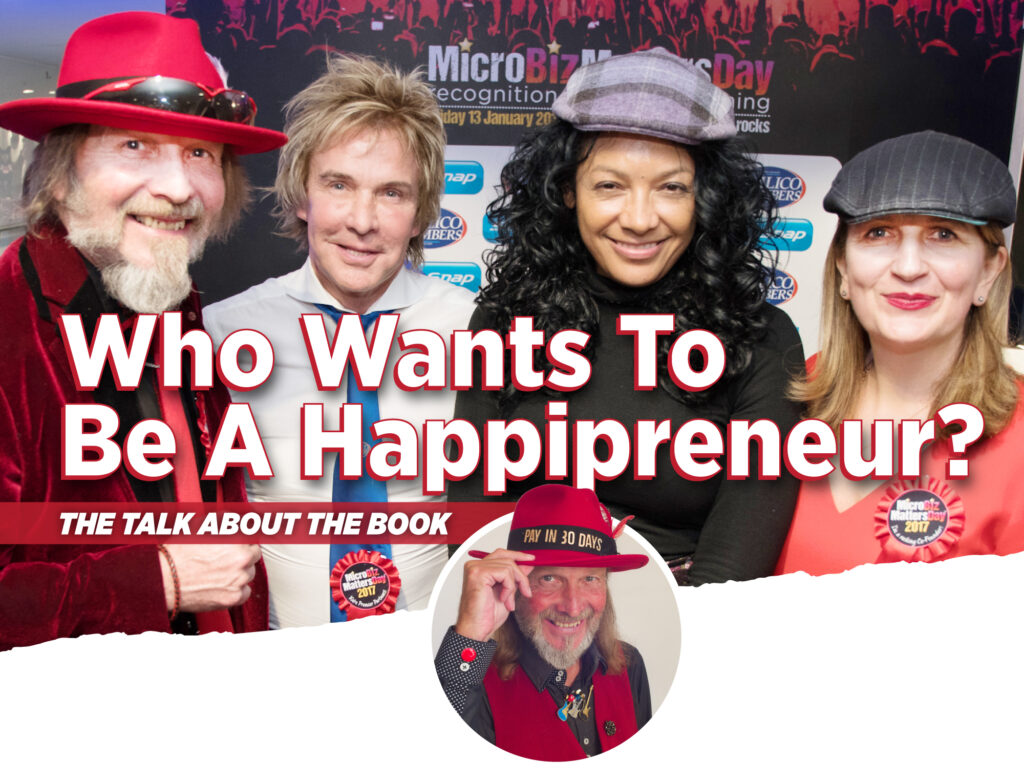 BEYOND A JOKE
£xcluded Voices
As I embark on my "70 talks in 70 towns and cities before my 70th birthday tour" to raise funds for the #ExcludedUK Hardship fund I know my strengths as a writer and speaker.
Humour is my strength but, tragically, the plight of the 3 Million #ExcludedUK is beyond a joke. My talk will be upbeat and entertaining but this blog is stark and tragic reality.
Below is the Foreword I wrote for the book '£xcluded Voices' by Stephen Liddell
The book was published just before the March 2021 Budget.
This Budget dashed the slender hopes of the, by then, desperate 3 Million #ExcludedUK.
There have now been 19 suicides and at 2.40 am this morning one of the Directors of #ExcludedUK was on the phone helping to prevent another suicide.
Please help
The #ExcludedUK Hardship Fund and Mental Health Counselling Fund desperately need more contributions.
Here's what you can do:
You can donate directly.
You can buy 'The Happipreneur: Why #MicroBizMatters?' – the new Small is Beautiful – anywhere and all my royalties (£2 per copy) go to the #ExcludedUK hardship Fund.
You can really make a difference by putting on my 'Who Wants To Be A Happipreneur?' talk and charging the audience at least £5 or 'pay what you can' to hear the talk. All we need is space and a mic. No projection, props or banners needed.
ALL the money raised goes directly to #ExcludedUK. Get in touch and I'll post you a publicity box including a free, signed copy of 'The Happipreneur'
You won't 'enjoy' my 5 page foreword to '£xcluded Voices' but I thank you on behalf of the 3 Million #ExcludedUK for reading it.
FOREWORD TO £XCLUDED VOICES BY STEPHEN LIDDELL
Hardworking, enterprising, and proud taxpayers
There are 150 voices in this book. Together they tell a horror story. The voices are of the bewildered, heartbroken, betrayed, abandoned, resilient, anxious, hopeful, crushed, angry, inspiring, and despairing.
Each voice deserves to be heard as they represent 3 MILLION #ExcludedUK that have received no meaningful income support from the Government since the first lockdown. Their stories explain why many have taken their own lives, why hundreds say, 'most days I want to take my own life', why thousands now live from hand to mouth in a very dark place and why hundreds of thousands need mental health support. All of these brave people need hope.
These hardworking, taxpayers are victims of this Government's perpetual disregard for 5.6 million micro-business owners, including 600.000+ new start-ups each year. They patronise and insult them by calling them 'deadweight', a fraud risk or non-viable.
All these enterprising self-employed people, freelancers, limited company directors, business owners and highly skilled employees have been earning their living the right way to survive and thrive. They meet all business and tax laws. The multitude of reasons they have been excluded is perverse, particularly in comparison with furloughed employees and those receiving Self Employed Income Support. 'There but for fortune go you or me'.
Victims of discriminatory COVID-19 income support policies, rip off living costs and a broken welfare system
Those excluded are victims because merciless discrimination has made them feel 'worthless' or 'punished', yet it is not their fault that they had to stop trading and so have lost their customers and income.
They have all been failed by the welfare system, including the state pension. It is not just people with their own business that have been abandoned for spurious reasons like having an employed job, paying themselves from dividends and earning over £50,000. Many have spent the last 3 tax years as employees that are excluded. Many were not furloughed, many have had a new job terminated during the pandemic and many are newly self-employed. Most of the voices in this book have not claimed 'benefits' before.
The inadequacy of the financial 'safety net' is as humiliating for them as they were when Michelle Dorrel, with her home-based nail bar, told Government Minister Amber Rudd on Question Time in 2015 'I voted for you' and you reneged on your promise on tax credits. History repeats itself with this Government. She spoke for hard-working millions of homeworkers that it was impossible to pay for broadband and feed herself and her children.
The claim system itself and the 'digital by default,' eligibility rules has shocked and sickened the excluded as much as it did Katie and Daniel Blake in 'I, Daniel Blake' in 2016. The cruel reality for those who fall through the cracks of society was laid bare. Millions are now living in a dehumanising and debt-ridden world. Reliance on food banks is tragic. You will read how some have resorted to desperate measures including closing their long-standing businesses, selling valued possessions, homes and, even, their bodies.
You mean hope
You mean hope:
By reading their stories, believing them, and supporting their just fight for parity with furloughed employees and those in receipt of self-employed income support
By getting behind the major influencers, politicians, and media that Government may listen to. These include 300 MPs with many like Bill Esterson, Caroline Lucas and Tracy Brabin that have been warriors for many years on behalf of those now excluded. Thanks to Andy Burnham, Steve Rotherham and Sadiq Khan all the metro mayors are supporting the #ExcludedUK campaigns. Household names like Gina Miller, Martin Lewis and Piers Morgan are trying to influence change. Let them know you're behind them.
By acts of kindness to those excluded, you can make the world of difference. It can be a chat or something more tangible like a purchase or food and drink or a donation to the #ExcludedUK hardship fund or mental health support fund.
By empowering others to take urgent action. Write to your MP. If you are a member of a small business membership body, trade association, or trade union tell them to be relentless in pursuing justice and parity for ALL 3 million #ExcludedUK.
By joining in with the 30,000 volunteers on the #ExcludedUK Facebook group. Throughout this book, you'll see just how much the activities, the campaigns, the webinars, the banter, and the mutual support have kept the community and the four wonderful co-founders of #ExcludedUK going. I loved the virtual choir video and hated the sleepout.
By giving this book to someone else, particularly someone in the media. The weekly, £multimillion Government propaganda machine can only be stalled by many more people becoming aware of their inhumane treatment of the 3 million.
Finally, thank you, Stephen
It is the greatest privilege of my lucky and long enterprising life to have been asked by Stephen to write this foreword.
Stephen's own story is the last one in this book and it is the most bizarre as his award-winning business, home and life have been destroyed because the Government has deemed he and his employees were too successful. He is surviving, in awful living conditions with mounting health problems, through huge courage and the friendship within the #ExcludedUK community.
However cold, and hungry he is, he is relentless, day after day, in supporting the #ExcludedUK cause. When I'm allowed to travel to London again, he will be the first person I want to meet. He's a hero and putting this book together is the work of a hero.
His award-winning tour business is based in London and many of the stories you will read liken what has happened to the 3 million #ExcludedUK as that described in Dickens' London. One voice said 'We have been left to hang. Just like how London dealt with the plague, leaving the poor to die in the streets, is exactly how I feel'.
The recurring question that is asked in most of these heart-breaking accounts is 'Why are the Government doing this to us?'. I think Charles Dickens had the answer to that: "Thus, cases of injustice, and oppression, and tyranny, and the most extravagant bigotry, are in constant occurrence among us every day. It is the custom to trumpet forth much wonder and astonishment at the chief actors therein setting at defiance so completely the opinion of the world, but there is no greater fallacy; it is precisely because they do consult the opinion of their little world that such things take place at all, and strike the great world dumb with amazement." Charles Dickens
Keep #rocking their little, unreal world. Thank you, Stephen, thank you #ExcludedUK and all the wonderful contributors to this important book. #YouRock and #MicroBizMatters.
Tony Robinson OBE (not Sir Tony!)
The #MicroBizMatters Champion