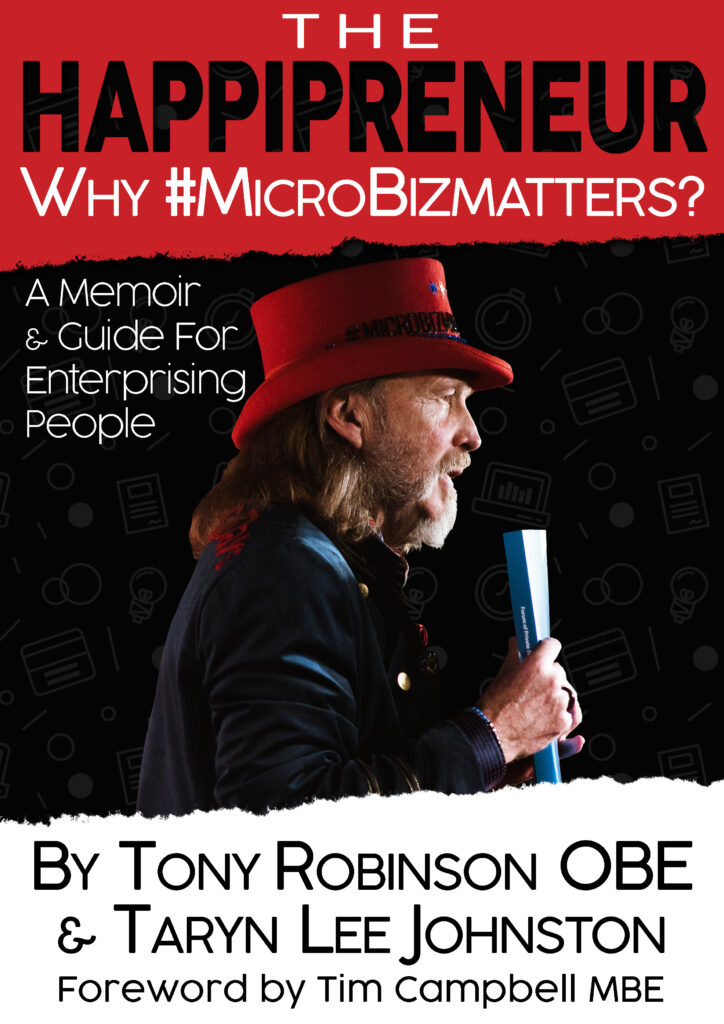 Walking with the Entrepreneurs
This article is about 5 famous Entrepreneurs that I believe are Happipreneurs too. In my opinion, they all share 5 traits that have made them successful and happy too.
I'm The Happipreneur in the new book of the same title. This was a two-year project to write the new 'Small is Beautiful' with Taryn Lee Johnston. The book is not mainly about me but is about what I have learned through running my own businesses, with women partners, for the last thirty-four years AND what I've learned from hundreds of entrepreneurs, some famous, what helps a new business to survive and thrive. Additionally, Taryn interviewed some well-known entrepreneurs on some of the myths and scams involved in entrepreneurship.
All 5 of the entrepreneurs mentioned in this article appear in the book. Our book explains my new philosophy of Happipreneurship.
Does being a Happipreneur differ from being an Entrepreneur?
It can differ in that an Entrepreneur is 'a person who sets up a business in the hope of profit'. Being an entrepreneur is always defined in terms of risk and financial reward and some of the wealthiest entrepreneurs and more of what I call 'fake entrepreneurs' are not very nice people. They are not happy and fulfilled individuals and they mainly talk about how wealthy they are, how to make loadsamoney and the material possessions they've acquired.
A Happipreneur is enterprising and likely to have started their own business too, although some are employees with an enterprising role and some are employees with side hustles. I define a Happipreneur as 'a person who is enterprising in order to happily control their own destiny'. Most people, especially most of the 5.6 million micro-business owners in the UK, start up their own business, not to become extremely wealthy, but to control their own destiny. They want to make ends meet out of their own enterprise. The book explains ten way I've found I can be both enterprising and happy.
But I've never earned a lot of money since I left a full-time job as CEO of Amway (UK) in 1986 in order to start my own business with the wonderful Clare Francis. I only have been able to live every hour as a Happipreneur for the last ten years. Yet some very wealthy entrepreneurs, I've been lucky enough to meet and learn from are also Happipreneurs. So if you want to be both an Entrepreneur and a Happipreneur here are some tips I've learned from some great British Entrepreneurs.
These special success tips aren't special to real entrepreneurs
These tips are rarely included in books or talks on entrepreneurship because successful business owners just regard them as normal, everyday activities. All successful entrepreneurs I have met work extremely hard and love what they do but their hard work is rarely glamorous, risk-taking or disruptive.
Growth is not exponential, ups and downs are guaranteed, and businesses often scale up not by increased productivity but by the entrepreneur exploiting a new opportunity, contract or acquisition.
Maverick startups that are investor-led most often do not survive the first three years whereas 4 out of 5 startups that obey my 5 rules will survive 3 years. They are: (1) Bootstrap don't borrow (until you've got customers); (2) Test trade first; (3) Build multiple income streams; (4) Ask for help from a business owner who understands your customers and (5) Enjoy what you do.
Professional speakers may not see these activities as exciting enough for their audience. So, most conference talks will include something about 'the big idea', 'goal setting', 'dream building', 'millionaire mindset', 'scale-up mentality', 'secrets of success', 'recruiting for attitude not skill' 'elevators', 'brand leadership' and 'pitching for funding'.
Technology and markets change but the fundamentals of entrepreneurial success remain the same. The five winning traits I describe below are shared by all five of the entrepreneurs I mention and have met. I have interviewed and worked with hundreds of successful business owners as friends, colleagues or clients and they all share these traits too. They will hardly ever mention them, but I have described what they DO not what they say.
Being Outstanding at What They Do
Sir Jim Ratcliffe is The UK's richest entrepreneur, worth £19 billion, and only started running his own business aged 40. He was a classmate of mine, so we are the same age. If we had been employees rather than business owners we'd have long since retired.
Why do so few entrepreneurs ever retire? They love what they do because they are outstanding at what they do. They feel and are useful. They keep on making a difference. If you're going to put your house on the line in order to buy your first business, in Sir Jim's case, a chemical engineering business it's a good idea if you're a qualified chemical engineer and a business accountant.
Sir Jim with his loyal team makes assets work better for him than the management led giants of BP and Shell. He is so outstanding as a leader in his sector, including return on assets, productivity and safety that I'd have put him in charge of the UK response to the pandemic, including the NHS.
He learned his outstanding skills before he started his own business, but most entrepreneurs hone their skills, know-how and know-who as they go. They're constantly testing the water and learning from what works and what doesn't. Sir Jim has now bought a Swiss and a French football club. He says he's 'learning the football business'. When he's learned it don't be surprised if Manchester United are the subject of a bid.
Repeat business is the best business
Charlie Mullins OBE is our #MicroBizMatters Tsar and has supported all seven of our annual #MicroBizMatters Days. His plumbing and building trades business has 350 employees and is a household name in London, the only City he operates in. He's a multi-millionaire partly because he was a good plumber and all his plumbers are as good as he was, but mainly because his company provides the best customer service that I've seen in any sector.
He's transformed the industry by the standards of response times, speed, timeliness, cleanliness and workmanship. As such celebrities and London's wealthiest individuals sing the praises of the 24/7 Pimlico Plumbers.
Charlie knows, like all successful business owners that getting your first customers is difficult so it's essential that you exceed their expectations so that you get referrals from them and they become repeat customers. 70% of Pimlico's customers are repeat customers.
Be You-nique
Kanya King CBE is the founder of the MOBOs. We call her our #MicroBizMatters Inspiration because when we founded our movement our aim was to achieve for micro-business owners in the UK what Kanya King has achieved for the music of black origin.
Kanya knew about talent booking for TV but no-one had attempted a broadcast event as ambitious or value driven as the first MOBO Awards. It is the unique combination of skills, passion, values and hard work that allows successful entrepreneurs to innovate time after time as Kanya has done. In contrast, executives in large companies are subservient to the brand and replaceable.
Most of the successful entrepreneurs I've met, like Kanya, recognise that they are their brand and it is their persuasiveness and skill which will make ambitious ideas happen. Many of the world's top artists that have travelled from the USA to the MOBO Awards have done so because Kanya has asked them to – the brand and its values are Kanya King.
Make Brilliant Deals
Chris Percival is 28 and I first met him at an Entrepreneur Awards event, when he had just left University. At that time he had a £3 million business – Jigsaw Medical – after 3 years of trading. He is now a major shareholder and CEO of a £300 million group.
He's had businesses, based on his interests such as website design and music, since he was 14 so it was no surprise that he built an emergency care (e.g. fully equipped ambulances with para medics on board) business while a student. He is a registered para medic and he believes his ability to win contracts and negotiate great deals is helped because his competition don't have the technical capability he has. He now acquires businesses around his passions.
The growth of his companies is massive and comes from his ability, from being a teenager, to see an opportunity and then strike great deals with clients, suppliers, providers, other businesses and even family and friends. His first ambulance was built out of a car his father sold him and he acquired a first aid training company he'd worked at as a student.
I believe that win-win negotiating is the most important skill of the entrepreneur as leader. All five entrepreneurs mentioned in this article have made the big leaps of growth and profit by seeing an opportunity and making a great deal – it could be a new building, a new supplier, a new talent, a new contract or a new invention but when a long term deal needs to be struck they lead the negotiation.
Knowing the value of a pound
Successful entrepreneurs have to create great products and services, market and sell these products well and they also have to be brilliant at money management. Most of us are not great at all these three activities which is why we need skilled employees, suppliers, like accountants, or partners to work with.
However, I believe that all the successful entrepreneurs that I've met are brilliant at the basics of money management. Lord Sugar was a client of mine, a long time ago when his company, Amstrad was one of the top consumer technology companies and he was Chairman of Tottenham Hotspur. He was only a client for a few months, and I met him only three times.
We failed to market a product for him as quickly as he wanted but I was so impressed by his business nous and integrity that I've followed his business activities ever since. I've also learned from others he's worked with. Tim Campbell MBE, the first the Apprentice Winner, has written the foreword to my new book.
What do I mean by 'knowing the value of a pound'? Highly paid leaders in the private and public sector, including Government, often operate in a bubble where multimillion budgets have to be spent and the best providers are usually the most expensive. These leaders can be a long way from understanding what is value for money. Successful entrepreneurs who have started with nothing understand value for money as much as the independent shopkeeper on the high street.
I don't believe anyone can con, over sell or rip off, Lord Sugar. If something isn't working he doesn't throw more money at the problem, he simply moves on to something else that works better.
He always knows what the customer can afford. His pricing strategy was similar for all his mass electronic products because it worked. When he started in business on his own he tried to make in enough in four days of the week so that he made more profit in the other three days and had more to invest in stock for the following week.
He always knows the value of positive cashflow and always has brilliant relationships with his customers and suppliers because of his total integrity on money matters. All the successful entrepreneurs I've worked with know the value of a pound and are distrustful of those that 'flash the cash', have big egos and status needs. They are not gamblers.
______________________________________________________
The Happipreneur is available from all good bookstores including Foyles, Waterstones, WH Smith and Amazon. Signed copies are available from this website. If you are an enterprising person or wish to help an enterprising person, then all the reviews suggest you'll love it!
Advice, Tips and Information from the MicroBiz ChampSmall is Beautiful
roll of HonourMonthly Musing of the MicroBiz Champ